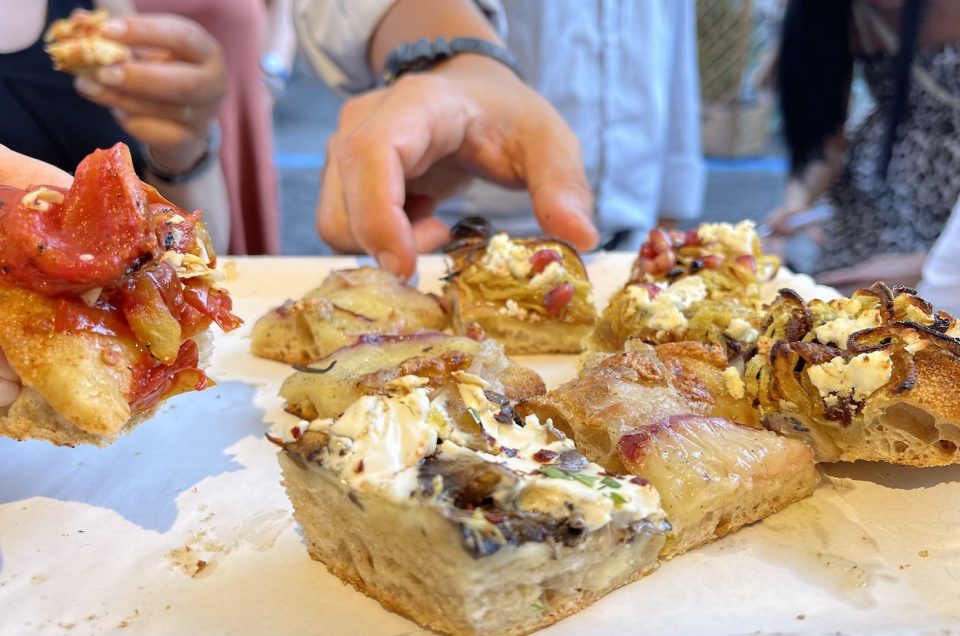 Italy is synonymous with fabulous food, and nowhere do you eat better than in the Italian capital. Deciding what to eat in Rome is essentially a matter of how much you can fit in, as much in terms of time as in terms of stomach space, and InRome Cooking has written this guide to take you through the top typical Roman dishes you simply mustn't miss.
What to eat in Rome for breakfast
Breakfast in Italy is a sugary, snacky affair. Italians on the go shun the traditional continental breakfast in favour of freshly baked croissants (cornetti as they're known in Italy) and a quick cup of coffee. Cornetti come either empty (vuoto) or filled (riempito) with a jam, nutella, or pastry cream. Coffee choices, on the other hand, are seemingly unlimited. 
Order a caffè in a bar and you'll get a rich shot of espresso. Order a latte and you'll get a glass of milk (a common mistake among foreigners), but order a caffè latte and you'll get a longer, milky coffee. Cappuccino is a must, though you should avoid drinking it after midday for fear of ridicule and social stigma, and macchiato is the perfect frothy compromise between a short espresso and a milky cappuccino.
Pop into a pasticceria (pastry shop) and you'll be faced with so much choice that you'll need a dictionary and five minutes to decipher your way to a decision. A classic ciambella (donut) never goes amiss, but if you want something more refined, and admittedly less Roman, you should try the Neapolitan sfogliatella. 
The most typical Roman breakfast pastry is the maritozzo con la panna. It's a creamy, dreamy calorie-filled beast, glazed oozing whipped cream and well washed down with a cappuccino. Dating from antiquity, the original maritozzo was little more than a sweet bun consisting of flour, eggs, honey, butter and salt. During the Middle Ages, maritozzo was the sole sweet treat the papacy permitted for consumption during Lent. Today maritozzo are ubiquitous in respectable Roman bars. Just go easy on them doing your time in Rome otherwise you may struggle to fit into your seat on the plane home. 
Pasta dishes you must eat in Rome
Did you know that four of the world's most famous pasta sauces originate from Rome and its surroundings? The region has blessed the world with carbonara, amatriciana, cacio e pepe, and gricia, which you'll find faithfully served throughout the capital. 
Roman pasta dishes are deliciously simple. All revolve around four main ingredients: tomatoes, pecorino cheese, eggs, and guanciale (pork cheek). Below you'll find a helpful infographic to help distinguish between the four pasta dishes, but essentially cacio e pepe is the most simple while amatriciana or carbonara are the most complex. 
Our favourite places to try traditional Roman pasta dishes are Flavio al Velavevodetto in Testaccio, Da Enzo al 29 and Peppo in Trastevere, and Armando al Pantheon near – you've guessed it – the Pantheon. 
For anyone seeking a unique culinary experience, we offer a Roman pasta making class with an optional wine-pairing. Hosted in our converted 17th-century palazzo near Piazza Navona sleek and stylish school near the Pantheon, this cooking class teaches you all the know-how you need to master these traditional Roman recipes and become the champion of dinner parties back home!
Most popular food in Rome
It should come as no surprise that pizza and pasta are Rome's most popular dishes. You'd be forgiven for thinking there are as many types of pizza in Italy as there are Roman residents with thin crispy pizzas and slices-to-go prevail in the capital and thick, doughy wood-fired pizzas are staples in Naples.  
You can find deep-fried pizzas (yes, really) stuffed with tomato and mozzarella and Spartanly simple pizzas topped with tomato sauce and garlic. Pizza is generally divided into bianca (without tomato sauce) and rossa (with tomato sauce) but beyond that the variation is unlimited. 
With the exception of pineapple. Italians don't serve pizzas topped with pineapple.
Though you'll see dozens of eateries in Rome claiming to be a restaurant, trattoria, osteria and pizzeria all rolled into one, your best bet for authentic pizza is a pizzeria. This might seem obvious, but in Italy you should always seek out places that specialise in one thing, and do that one thing well. If your car broke down you'd call a car mechanic before a general handyman. The same goes when deciding what to eat in Rome. 
Our favourite pizzerie are Da Remo in Testaccio, Ai Tre Scalini near Piazza Navona, and Emma Pizzeria near Campo de' Fiori, though the standard has slightly dipped in recent times. But if you want a slice of something truly special, you must – we repeat, must – try Casa Manco in Testaccio market.  
→ Check out our pizza-making class and pasta-making class
Famous Roman dishes
Carciofi alla giudia (Jewish-style artichokes)
Artichokes are an artform in the Roman region of Lazio. These budding thistles of deliciousness blossom between February and April and feed Rome's citizens for the rest of the year. 
Browse any Roman farmers' market and you'll find they're blooming with artichokes, which Roman chefs serve alla romana (Roman-style) or alla giudia (Jewish-style). Each is prepared by stripping the artichokes of their leaves with a sharp knife, leaving just a couple of centimetres of the stem, and soaking them in water and lemon juice to stop them turning brown.
Carciofi alla romana are simple. Sliced open in the centre, they are stuffed with fresh parsley, mentuccia (lesser calamint), garlic, salt, and pepper, stood upright in a pan they are then doused in water and white wine before being braised in the oven and served warm or at room temperature.
Carciofi alla giudia are even simpler. Generously seasoned with salt and pepper, they are dunked into a deep vat of olive oil and deep-fried until deliciously crispy (resembling well-cooked potato chips in both taste and appearance).
The best place to eat Jewish-style artichokes is in Rome's Jewish Ghetto, but you'll find them on other restaurant menus throughout the Italian capital.
→ Try recreating this for yourself through our Jewish cooking class
Supplì
Deriving from the Italianization of the French word for 'surprise', these delightful deep-fried balls of deliciousness are Rome's most beloved food staple. They originated, we believe, during the Napoleonic occupation of Rome in the early 19th century, and were initially stuffed with chicken giblets, mincemeat, and a local cheese known as provatura.
Supplì are nothing if not simple. Like arancini, their more famous Sicilian cousins, they consist of balls of risotto rice, lovingly lathered in mozzarella and ragù meat sauce, coated in breadcrumbs, and deep-fried to perfection.
Refined tastes and inquisitive tourists have seen an explosion of new supplì flavours in recent years. These include, but are in no way limited to, classic cacio e pepe (cheese and pepper), 'nduja (spicy pork sauce from Calabria), and – for the brave – smoked gorgonzola and herring.
→ Seek out the best supplì in Rome as you discover and taste Roman street food
What to eat in Rome besides pasta and pizza
It should come as no surprise that pizza and pasta are Rome's most popular staples. But the culinary creativity in the Eternal City transcends these two staples. Here are our top recommendations for what to eat in Rome and, more importantly, where to go!
Trapizzino
What's not to love about a hollowed out slice of toasted pizza bread stuffed with a selection of saucy delicacies? Visit Il Trapizzino in either Trastevere or Testaccio and this is precisely what you'll get. The standard menu consists of trapizzino with doppia panna (double cream), parmigiana, polpetta al sugo (meatballs), pollo alla cacciatora (hunter's chicken), and lingua in salsa verde (tongue in green sauce), but they offer up plenty of seasonal specialities too. 
Gelato
Gelato delights every visitor in Italy, giving them a sweet, authentic taste of La Dolce Vita. For most, it's just another example of Italy's world-renowned culinary culture. For others, it's enough to make them want to pack up, say farewell to loved ones, and move to Italy for good.
Italian gelato covers both creams and sorbets, neither of which are saturated with fat. Sorbets use natural fats from dried fruits or other vegetables. So an avocado gelato, for example, wouldn't contain any cream or milk but only the fat that derives naturally from the avocado. Any artisanal gelateria in Italy will be serving gelato made from fresh produce: milk or cream sourced straight from a farm; strawberries or lemons freshly picked from the fields.
Where can you find the best gelato in Rome? We love Gelateria La Romana (situated in several location throughout the city), Gelateria del Viale in Trastevere, and Gelateria di San Crispino in the centre. As a rule of thumb you can't go wrong with gelato in Rome as long as you stick to one golden rule: avoid anything that has been puffed up to such an extent that it resembles Marge Simpson's hair. 
→ Gelato vs ice cream: what's the difference? 
Get a true taste of the capital with InRome Cooking
InRome Cooking operates two cooking schools in Rome's historic centre, one in a converted 17th-century palace around the corner from Piazza Navona, the other a sleek-and-stylish terraced school a stone's throw from the Pantheon. 
Our cooking classes and food tours have been refined over years to bring you the most authentic experience possible. Our professional, fluent English-speaking chefs are experts in imparting their vast culinary knowledge to guests from all over the world. 
We look forward to welcoming you to Rome soon!
Article by Alexander Meddings