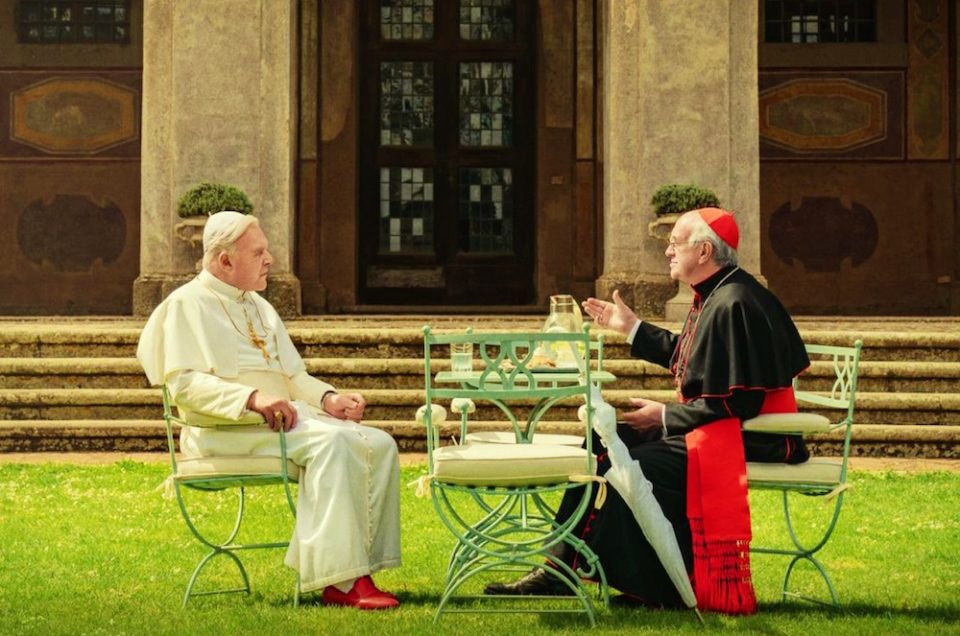 Every morning, a basket brimming with fresh produce arrives on the doorsteps of the Papal Apartments.
Overflowing with organic milk and yoghurt, rich creamy butter, handmade cheeses and freshly picked seasonal fruits, this basket hails from the Pope's summer residence at Castel Gandolfo.
For audiences that have seen the recent Netflix sensation The Two Popes, this may sound familiar.
In one memorable scene, Cardinal Bergoglio (the future Pope Francis) chats amicably with a Castel Gandolfo gardener about their shared love for oregano. Taking in the herb's enticing aroma, they reminisce about familial recipes. Bergoglio's mother, it transpires, would always sprinkle oregano into breadcrumbs.
It is at this point that the gardener broadens the discussion to Castel Gandolfo's other ingredients.
"Tutto quello che il papa mangia viene da Gandolfo. Lo mandiamo tutto a Roma: tutto biologico – verdura, uovo, formaggio…"
"Everything the Pope eats comes from Castel Gandolfo. We send it all to Rome – vegetables, eggs, cheese"
This, like all dialogues in The Two Popes, is entirely fictitious. But the subject matter resides firmly within the realms of reality. The Vatican does indeed derive all food from the papal estate of Castel Gandolfo.
So what does the pope eat?
As you would expect, Pope Francis is a modest man, and his diet keeps in line with this shunning of ostentation. For breakfast he keeps it simple: a glass of orange juice and a sweet, gelatinous pasta called membrillo, which is a classic fare for his native Argentina.
Lunch and dinner are similarly basic. A typical meal might consist of baked chicken, salad, fruit, and wine. Italian staples like pasta, gnocchi, and polenta make occasional appearances. However, on account of recent medical advice, Pope Francis has had to cut back on the carbs.
The  unifying thread that runs through all the papal recipes is the freshness of the ingredients. In keeping with his philosophy, as set out in Laudatio Sì, our efforts to tackle climate change must start with our relationship with the land and oceans. Everything is therefore locally, organically sourced, coming from Castel Gandolfo's 62 acres of farmland.
Visit and cook on the estate where the Vatican's food comes from
For centuries, only Saint Peter's successors have reaped the rewards of its bountiful fruits. Now, with InRome Cooking, you too can experience a divine day there as you cook time-honoured cuisine and indulge over lunch.
"Food brings people together," says Marilena Barberi who co-founded InRome Cooking along with her brother Salvatore, "and we've always wanted to use it as a way to welcome people to our beautiful city." Following in their family's footsteps (their father owned a reputable restaurant near the Vatican), the siblings recently restored a 17th-century city-centre palazzo, furnishing it with sleek marble countertops and state-of-the-art equipment and transforming it into the flagship InRome Cooking School.
"The school has been a terrific success," says Marilena, "and we're currently putting the finishing touches to our next, right next to the Pantheon." It will form part of a powerful triumvirate. For when Pope Francis opened the papal estate to the public back in 2014, Marilena and Salvatore drew on their longstanding collaboration with the Vatican to open another cooking school on the papal estate. In April this year, it opened its doors.
"Everything from the eggs to the flour, from the milk to the oil is produced on the estate. Everything is organic," says Marilena. "Our emphasis is on tradition, on recreating the dishes they've been making here for generations. That might be cappellacci del prete (hand-rolled ravioli filled with a rich ragù filling and folded so they resemble priests' hats) or sweet, creamy cannelloni stuffed with freshly sourced ricotta. Every experience is different; it depends what's freshest on the day."
InRome cooking offers a range of experiences at the school and at Castel Gandolfo. The full-day Castel Gandolfo package includes the highly acclaimed Earliest Access Sistine Chapel tour, which brings guests face to face with Michelangelo's masterpiece 90 minutes before the Vatican's official opening.