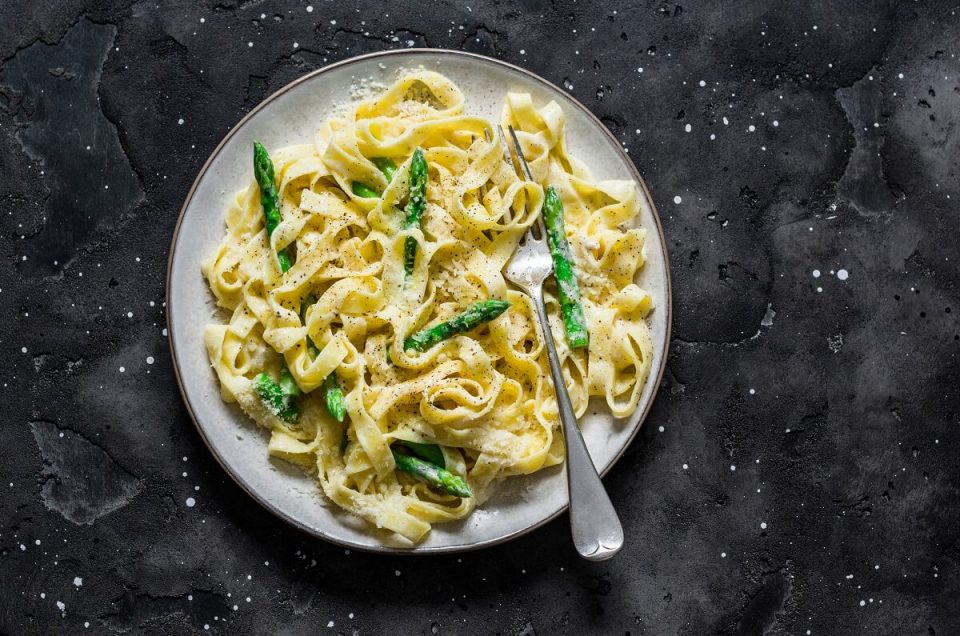 A first course dedicated to all lovers of delicate tastes. Pasta with asparagus is a delicious dish made with just one ingredient: asparagus. A recipe particularly suitable for savoring the delicate and refined taste of this vegetable typical of the spring months.
Here the asparagus are simply sautéed to preserve their typical flavor. Prepare pasta with asparagus when you have friends for dinner: with a few simple moves you will bring to the table a balanced, simple but tasty dish that everyone will love!
Ingredients for 4 people
Fettuccine 320 g
Fresh asparagus 700 g
Black pepper to taste
Salt up to taste
Parmigiano Reggiano DOP to be grated 20 g
Shallot 80 g
Thyme 3 g
How to prepare pasta with asparagus
To prepare the asparagus pasta, start by placing a pot with plenty of hot water on the stove; when it boils add salt: it will be used to cook the pasta.
Continue with the cleaning of the asparagus. Wash them under plenty of running water and dry them with a cloth. Then remove the hardest and light-colored ends by leveling them. Then remove the outer part of the stem, the most leathery one, with a potato peeler.
Take the asparagus and align them in a bunch, then cut the stems into small rounds, taking care to leave the tips intact (you can divide them in half lengthwise if you prefer).
At this point, peel and finely chop the shallot.
Proceed by taking a non-stick pan: pour in a drizzle of oil and gently fry the shallot. Stir occasionally and add a ladle of cooking water to make it dry more gently without the risk of burning.
Add the chopped asparagus and the tips. Salt and pepper, stir and pour in one or two ladles of hot water then cook with the lid on for 10-15 minutes over medium heat.
While the asparagus is cooking, boil the pasta in the pot of boiling water. When it is al dente, transfer it to the pan where you cooked the asparagus using a skimmer and mix.
Finally, flavour it with the thyme leaves and the grated Parmesan cheese, if necessary sprinkle with very little cooking water, stir in and then turn off the heat.
You are ready to serve your asparagus pasta and… enjoy your meal!
Our advice
An original variation of this dish? Blend asparagus, thyme and Parmesan in the mixer to create a thick and appetizing cream with which to season this delicious asparagus pasta.
Do you love pasta and vegetables ? Try Pasta with Broccoli recipe!