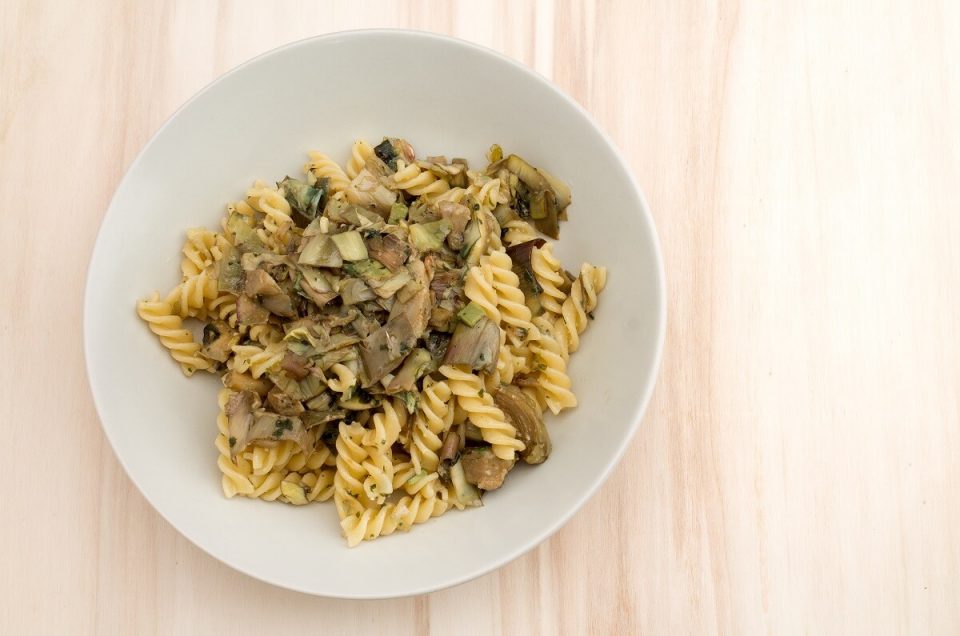 As spring officially kicks in it is time to show you a great seasonal recipe: pasta with artichokes! 
A very simple first course but rich in taste. The flavor of the artichokes will be enhanced to the maximum: we have chosen to blend a part of the artichokes and leave others whole, to obtain a creamy first course and also enjoy their consistency. 
This way the pasta will blend perfectly with this cream. Mint will give a truly unique scent! Gather relatives and friends, pasta with artichokes is perfect for a family lunch or an informal dinner!
Ready to discover all the ingredients and the procedure? Then all you have to do is to keep on reading! 
Ingredients for a perfect Artichoke Pasta
Here the full list of ingredients for 4 people:
Fusilli 320 g
5-6 Artichokes (about 700 g) 
Shallot 1 (in case you don't have it you can use a bit of garlic and onion)
Mint 10 leaves
Extra virgin olive oil to taste
Salt up to taste
Black pepper to taste
How to prepare artichoke pasta
Now that you have all the ingredients it is time to cook. Let's roll:
1-  To prepare the artichoke pasta, first of all take care of the cleaning of the artichokes. Remove the harder outer leaves, shorten and clean the stem and the base, cutting off the tips. Then divide the artichoke in half and remove the internal beard. Now cut the artichokes into thin slices. 
2 – Fry the shallot in a large pan with a generous splash of oil. When the shallot is well wilted, add the artichokes. Brown them for a minute then add water (about 50 g) and add salt.
3 – Cover and cook for about 15 minutes so that the artichokes are tender. Meanwhile, place a pan full of salted water on the fire that will be used for cooking the pasta. 
4 – As soon as the artichokes are cooked, take about 1/3 of them and transfer them to a bowl. Add a little cooking water from the pasta pan and blend to obtain a smooth cream.
5 – Cook the pasta al dente and in the meantime cut the mint leaves into strips. Drain the pasta and transfer it to the pan with the artichokes. 
6 – Add the cream and adjust the consistency with the pasta cooking water, letting it cook for a couple of minutes so that it blends with the sauce. 
7 – Complete with oil drizzles, mint and a grind of black pepper. Jump and serve!