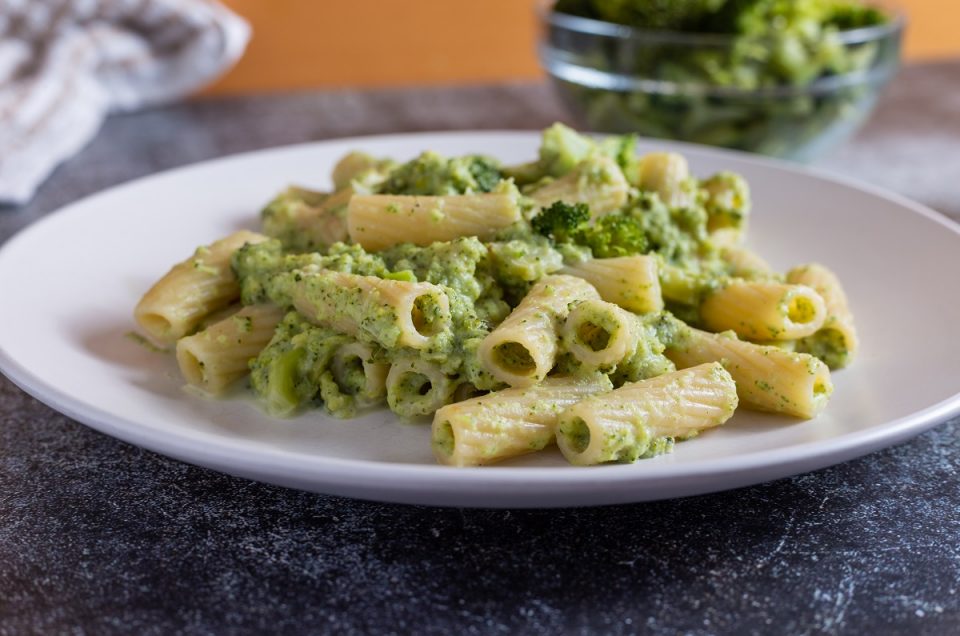 Amongst the traditional Italian pasta recipes, there is one that usually leaves our cooking buddies particularly amazed: pasta and broccoli.
Broccoli is one of the most controversial ingredients. Some love them, others hate them but few know that small tricks are enough to make these winter vegetables an ally in the kitchen!
Here in Rome, we love them so much that we have a variety of this magnificent ingredient named just after the city: Broccolo Romanesco.
A simple recipe, like this pasta with broccoli, will be enough to fully appreciate their goodness. Just a few aromas and slow cooking will transform common broccoli into an enveloping and tasty cream for a pasta dish, a healthy and genuine idea that will enrich your cold season menus with taste.
Traditionally this is a vegetarian recipe, but the combination with other delicious ingredients, such as sausage, bacon, toasted breadcrumbs, might give rise to many appetizing variations, all to be discovered!
Ingredients for a perfect Pasta and Broccoli
Pasta: 320 g
Broccolo romanesco: 450 g
Garlic clove: 1
Extra virgin olive oil to taste
Salt up to taste
Black pepper to taste (or chili pepper, according to your taste)
Optional: 1/2 anchovies to be melted in the oil.
Preparation: how to prepare pasta and broccoli
To make pasta with broccoli, first, remove the broccoli florets from the central core; if they are very large, cut them in half.
Then rinse them under running water. Bring a pot full of water to a boil and as soon as it starts to boil, add the broccoli. Cook for about ten minutes.
In the meantime, fry a clove of garlic in a drizzle of oil in a high-sided pot. If you like, this is the time to add the anchovies or the chili pepper in the pot, but these two ingredients are optional.
Drain the broccoli, keep the cooking water aside and transfer it to a saucepan. Keep some small whole florets aside, which you will then add to the finished pasta.
Add a little water to the broccoli. Salt, pepper, and cook over medium-low heat for about 20 minutes, or at least until they are cooked and almost creamy. If necessary, add more water. When cooked, remove the garlic clove.
Cook the pasta al dente in the water in which you boiled the broccoli, adjust the cooking time according to the information on the package. Always remember that it's much better to leave the pasta harder than to overcook it so that you can finish the cooking in the pan with the sauce and a bit of water.
Add the broccoli kept aside to the sauce.
Drain the pasta and add it to the broccoli cream.
Add a ladle of the cooking water, adjusting according to the creaminess of the sauce. Stir the pasta with the broccoli for a few moments then serve it hot with black or chili pepper to taste.
If you like cheese you can also put some parmesan or some grated pecorino on top and your pasta with broccoli is ready, enjoy your meal.
Our Suggestion
Try dissolving an anchovy in the oil together with garlic to give it a more savory and captivating note!