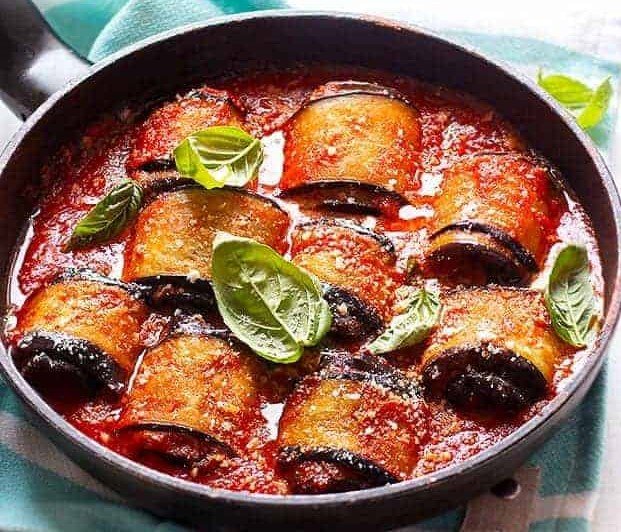 The richness of the filling, the sweetness of the raisins, and the crunchiness of the nuts give the dish and unexpected freshness. The complexity of the dish exceeds that of the refreshing melanzane parmigiana. The delectable filling can also be used for swordfish rolls – a typical Scilian way of preparing the meaty fish.
Serves: Generous serving for four.

Ingredients
2 large eggplants
Extra Virgin Olive Oil
For the Filling:
1 cup of ripe tomatoes
1/4 pine nuts
1/4 pistachios
1/4 raisins
1/2 cup breadcrumbs
Directions
To start, cut the stalk of the eggplant so you are left with a flat top. Cut the eggplant into strips – about 1/4 inch. Brush the slices generously with olive oil and bake until the flesh is soft. Leave to cool.
Finely dice the tomatoes and parsley. Roughly chop the pistachios. Add these two to a bowl with the pine nuts and raisons. If you raisins are too stiff, sit them in some warm water for a couple of minutes to plump them slightly. Stir the mixture and season with olive oil, salt and peper to taste.
Place a dollop of the mixture at the end of an eggplant slice and roll the slice into a a little oblong cushion.
Bake at 390 fahrenheit for 15 minutes. Serve at room temperature.