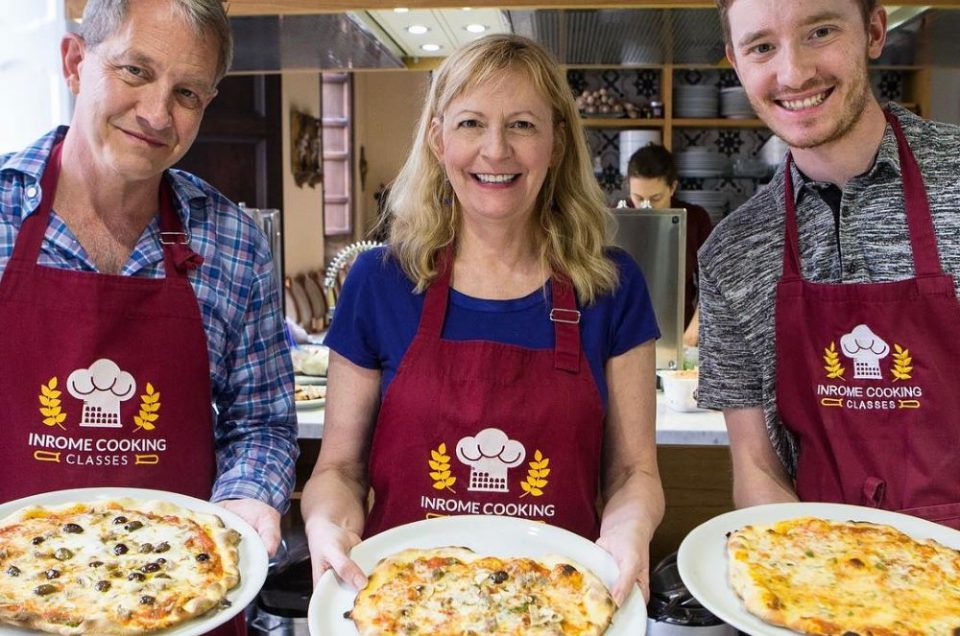 Ah, pizza.
One simple word, recognized around the world, and guaranteed to get mouths watering and bellies rumbling.
What is behind this simple, magical dish at the heart of all our Italian food fantasies? And what is the big controversy between styles?
After all, isn't a pizza just a pizza?
Definitely not!
Pizza has its origins all the way back in the ancient Roman, Greek and Persian empires with records showing flat round breads with all sorts of toppings.
Archeologists have recently discovered a preserved Bronze Age pizza near Venice, as well as unmistakable signs of pizza production in the preserved ruins of Pompeii.  The oldest reference to the word "pizza" dates from 987 AD and likely comes from the Latin word "pinsa" which means flatbread.
Workers in the 17th and 18th centuries needed hearty inexpensive food that could be eaten quickly and on the go. Pizza fit the bill perfectly, as it still does today, and the first restaurant dedicated solely to pizza making opened in Naples in 1830, with the famous Pizza Margherita created in the city for the Queen of Italy in 1889.
This fluffy, thick, soft pizza topped with tomato sauce and buffalo mozzarella, and decorated with fresh basil leaves has become the iconic symbol of pizza's delicious addictiveness.
But what of Roman pizza?
At InRome Cooking, Chef Max reveals the secrets of Roman style pizza, with its crust as thin as a sheet of high-quality paper.
"The magic is in the unique dough," Max tells me. "Its olive oil keeps the dough supple and allows the crust to be hand stretched to its unique and characteristic thinness."
As we knead and stretch our dough, Max lets us in on more secrets about the special rustic flours used for the crust and their ability to absorb water easily and stand up well to the long fermentation and rising time required, up to 48 hours in some cases.
With quick, deft moves, Max soon creates a wafer-thin disc of silky elastic dough which he spins and flips through the air like a consummate showman. He tells us that Roman pizza has toppings all the way to the edge, leaving only the tiniest rim of crust for fingers to grasp.
After we whip up a traditional topping of tomato sauce, spoon it in concentric swirls across our dough and top it with mozzarella, Chef Max seizes his long paddle with authority and swoops each pizza into the extremely hot oven.
The original Roman Pizza
The result, within a mere three minutes is a pizza with a tantalizing crispy and crunchy crust, making it lighter and easier to digest. While we munch happily on our creations,
Max tells us that the original Roman pizza topping is thought to have been pecorino cheese, pepper, and basil, but the modern pizza most beloved by Romans is the Capricciosa, which includes toppings of mushrooms, prosciutto, artichokes, olives, and a sliced boiled egg.
At InRome Cooking, true Roman pizza is close to our heart, with our recipe passed down over generations. Our pizza masterclass is one of the most authentic cooking experiences available in Rome.
Come and enjoy a fun and scrumptious day with family and friends, learning the art of real Roman pizza making, right in the historic center of the Eternal City.