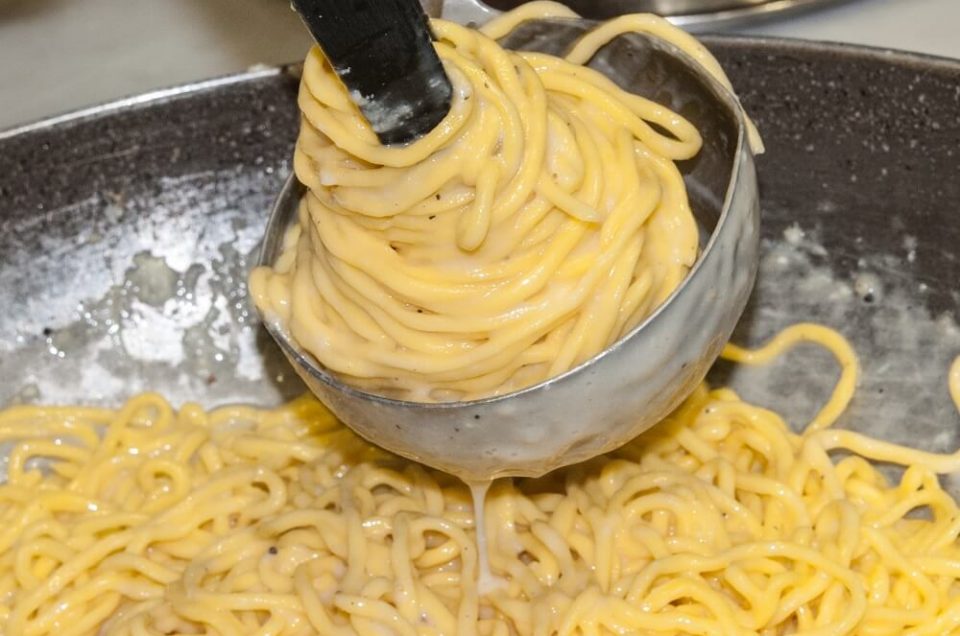 Cacio e pepe is a staple of every Roman osteria, a "simple" dish of pasta with a cheesy, peppery sauce.
Silky, seductive, and delicious, Cacio e Pepe is ostensibly simple dish. But every Roman has their own recipe. And every Roman will tell you the recipe of their own nonna is the best.
Chef Filippo is no exception; his calm declaration that his method is the lightest and the tastiest makes it impossible to resist.
Preparing Cacio e Pepe
Starting with a large, 3-inch deep, 15-inch wide, even bottomed pan, Filippo splashes in a cup or two of cold water and a heavy handed grating of fresh black pepper.
He doesn't bother with measurements: his passion and confidence reassure you that he has already gauged how many people he will serve and he chats about the simmering of the pepper to make a simple stock in such a way that you find yourself nodding happily, smelling the spicey wafts of steam as the pepper gently simmers.

Fast forward to a straightforward lesson in pasta making. This is Roman cooking at its best, Filippo's fingers are in the bowl, expertly mixing 00 flour and semolina together with an egg and a spoonful of extra virgin olive oil.
How much flour? How much semolina? "Oh, half and half is good," Filippo cooly replies.
Filippo's reply reminds you that Roman cooking is 3,000 years old and his easy demeanor means there is no room for pretense or nerves, get your hands in there and mix. Kneading the dough on the gorgeous marble countertop reminds you that this is Italy, home of Carrara and the cool elegance of the marble is actually a practical tool, making the golden dough turn silky and elastic beneath your hands.
Cutting the pasta
Wrapped in cling film and resting for five minutes, your dough rests while Filippo checks his pepper stock, turns on the water to boil for cooking the pasta, attaches the pasta making machine to the counter, chatting all the while.
His knowledge is as broad as it is fascinating: the importance of semolina, the health giving properties of fresh eggs and olive oil, and the age old controversy about adding salt and oil to the pasta water (Filippo, for the record, says neither!).
Uncover the magic of turning your ball of dough into amazing, authentic, fresh pasta. Kneading, folding, flouring and cranking the handle of the simple, old fashioned, time honored pasta machine transports you to every Roman kitchen in town, where families laugh and cook together on a daily basis.
Take pride in your skill as your very own tagliolini slips from the machine into your waiting hand, a breathless moment for those who have never done it before.
And suddenly small dunes of fresh pasta lay waiting to be cooked, Filippo gathering them up and whipping out a scale to show off his ability to judge by hand 100 grams of pasta per person.
With the pasta cooked and drained, I watch as Filippo slips the slithery strands into his pepper stock, over a gentle heat, gently shaking and turning the pasta with long thin tongs to disperse the peppery goodness.  In go small handfuls of finely grated pecorino, one by one, as Filippo deftly continues turning the pasta, tilting the pan to show off the developing cheese sauce as he goes along.
Alternately adding the starchy pasta water and the grated cheese, Filippo suddenly declares it done. And you are confronted with a divine mass of soft yellow pasta coated in the silkiest of creamy peppery sauce.
No butter, no milk, no cream: a dieter's delight (or here's hoping!).
The icing on the cake is Filippo's lovely trick of twirling the pasta inside the bowl of a sturdy ladle before he carefully plates a gorgeous tower of cacio e pepe pasta into a traditional Italian shallow pasta bowl.
Add a final sprinkling of cheese and voilà – tuck in to a bowl of pure Roman goodness.