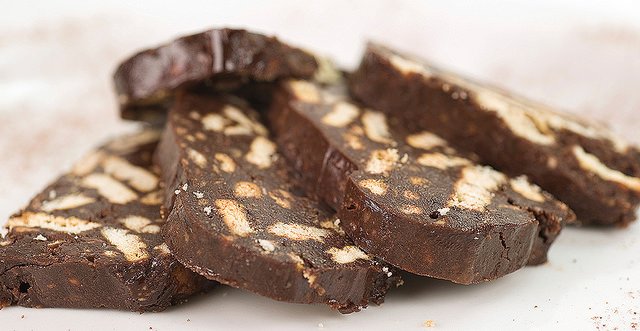 Tis' the season to be jolly, and what better way to get in the festive spirit than by rustling up your very own chocolate salami!
No, it's not as dodgy as it sounds. Chocolate salami is a hugely popular sweet treat here in Italy. It's a delicious log of sugary goodness, studded with biscuits and infused with rum. And it's the perfect table-topper for your Christmas dinner, adding an Italian twist to the festive traditions.
As an early Christmas present, we're sharing the recipe for InRome Cooking's signature chocolate salami. It's quick, easy, and guaranteed to go down a treat. So read on to find out how to rustle it up!
Ingredients for Chocolate Salami
200g of dark chocolate
175g of dry biscuits
150g of butter
150g of sugar
2 eggs
10g of rum
Serves 8 people
Directions
Chop the chocolate into small pieces and melt in a double boiler.
In a bowl whisk together the sugar, butter and rum.
In a separate bowl beat the eggs with a fork and then add them to the sugar, butter and rum.
Add the chocolate and combine it with the other ingredients.
Bash the biscuit into small pieces, then add it to the mixture and combine evenly.
Take the mixture and shape it into a salami.
Wrap your salami in parchment paper and leave it to rest overnight.
The next day, unwrap your salami and sprinkle it with icing sugar.
Cut it into slices and serve. Buon appetito!
For more news about Roman and Italian food, keep checking our Fabebook page!