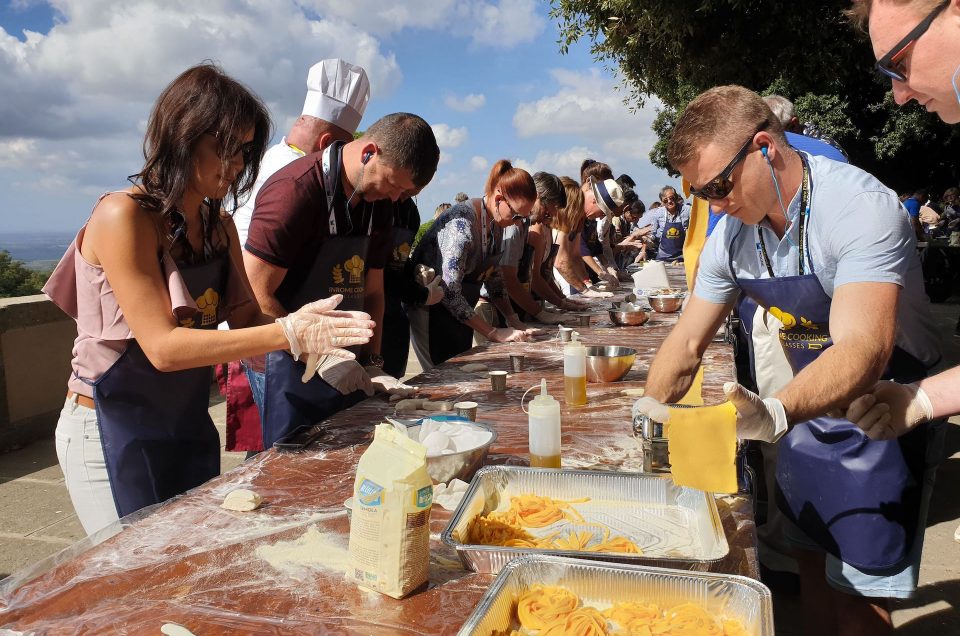 With In Rome Cooking's Private Food Tours tailored to meet your dietary preferences and needs, there is no better way to uncover the secrets behind Rome's culinary excellence while creating unforgettable memories with your family or loved ones. So why wait? Immerse yourself in an authentic roman culinary odyssey that celebrates Italy's finest flavors amidst the ancient beauty of Rome.
During the food tours, guests will have the opportunity to taste a variety of Roman specialties such as suppli, pizza al taglio, porchetta, and various cheeses and cured meats. The expert guide will lead them through the city's most picturesque neighborhoods, such as Testaccio, Trastevere, and Campo de' Fiori, teaching them about Rome's food culture and history along the way.
1. Private Gourmet Food Tour of Rome
This exclusive tour takes you through the streets of Rome to savor local culinary specialties such as suppli and porchetta. Visit traditional food markets, taste artisanal pizza, and learn about Italian cuisine from a local food expert.
2. Private Roman Aperitivo Tour
Embark on an evening stroll through the enchanting neighborhood of Trastevere and get a taste of Italy's famed aperitivo culture. Sample classic Italian cocktails, snacks, and appetizers while learning about the history of this culinary tradition from a knowledgeable guide.
3. Private Taste of Testaccio Food Tour
Explore one of Rome's most authentic neighborhoods, Testaccio, with a local food expert by your side. Discover the area's rich culinary history while sampling delicious dishes such as pasta carbonara, trapizzino, and tiramisu at various eateries and food markets.
4. Private Jewish-Ghetto-Rome Food Tour
Immerse yourself in the rich history and flavors of Rome's Jewish Ghetto on this guided walking tour. Experience authentic Roman-Jewish cuisine as you sample fried artichokes, ricotta cakes, kosher wines, and other traditional dishes while learning about the history and unique culture of this ancient district.
5. Private Heart of Rome Artisan Food Tour
Delve into the heart of Rome's culinary scene with a guided stroll through its historic center. Sample an array of Italian artisanal foods including gelato, prosciutto, espresso, porchetta sandwiches, and more at renowned local establishments. Learn about Italy's food traditions and age-old techniques from your expert guide as you eat your way across the Eternal City.
The Private Food Tours offered by InRome Cooking provides a unique and authentic food experience in Rome. The tour allows participants to discover the city's vibrant culinary scene while exploring the streets of Rome with a local expert guide. The tour includes visits to various food markets, bakeries, and traditional eateries, ensuring that guests are exposed to the real tastes of Rome.
Don't miss out on this unique opportunity during your visit to Rome – now might just be the perfect time to embark on a spellbinding private food tour.