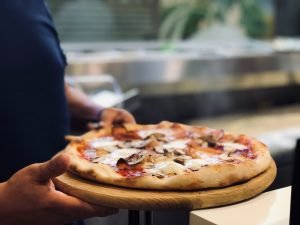 To create a delectable pizza inspired by the flavors of Rome, follow these steps:
1. Prepare the dough: Start by rolling out the pizza dough into a thin, round shape. Use your hands or a rolling pin to achieve the desired thickness. Ensure the dough is evenly stretched to form a solid base for your toppings.
2. Select your toppings: In true Roman fashion, opt for fresh, high-quality ingredients to elevate your pizza. Seek out the finest ingredients available, just like InRome Cooking does. Consider the seasonality of the ingredients and choose toppings that reflect the current flavors of the season. For a savory touch, you can add a selection of salty salami, showcasing the rich flavors of Italy. If you prefer earthy and aromatic elements, opt for a handful of mushrooms that add depth to your pizza. For a burst of sweetness and indulgence, try the combination of fruity figs and cured prosciutto. The key is to experiment and let your taste buds guide you in creating a unique and authentic pizza.
3. Adorn and decorate: Once you have chosen your toppings, carefully place them on the prepared dough. Distribute them evenly, ensuring each slice will be a harmonious blend of flavors. Don't be afraid to get creative and arrange the toppings in an aesthetically pleasing manner. Let your culinary imagination run wild as you bring together the perfect combination of colors, textures, and tastes.
4. Bake to perfection: Preheat your oven to a high temperature, usually around 450-500°F (230-260°C). Carefully transfer your pizza onto a preheated pizza stone or a baking sheet lined with parchment paper. Place the pizza in the hot oven and let it bake for a few mouthwatering minutes. Keep a close eye on the pizza as it cooks, ensuring the crust becomes golden brown and the cheese melts to perfection. The aroma will fill your kitchen, building anticipation for the moment of satisfaction that awaits you.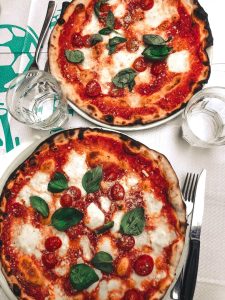 5. Enjoy the fruits of your labor: Once your pizza is baked to perfection, remove it from the oven. Allow it to cool for a moment, as the bubbling cheese settles. Slice your pizza and serve it hot, savoring each bite of the satisfyingly fresh and flavorful masterpiece you've created. Gather your loved ones around the table, just like the Italians do, and indulge in the magic of a homemade Roman-style pizza.
By following these steps, you can recreate the essence of a Roman pizza experience, incorporating the joy of selecting the finest ingredients and the anticipation of savoring a pizza that reflects the flavors of the season. Let your creativity soar and embrace the art of pizza-making in the heart of Rome.
Our Pizza masterclass in Rome is ready for you!