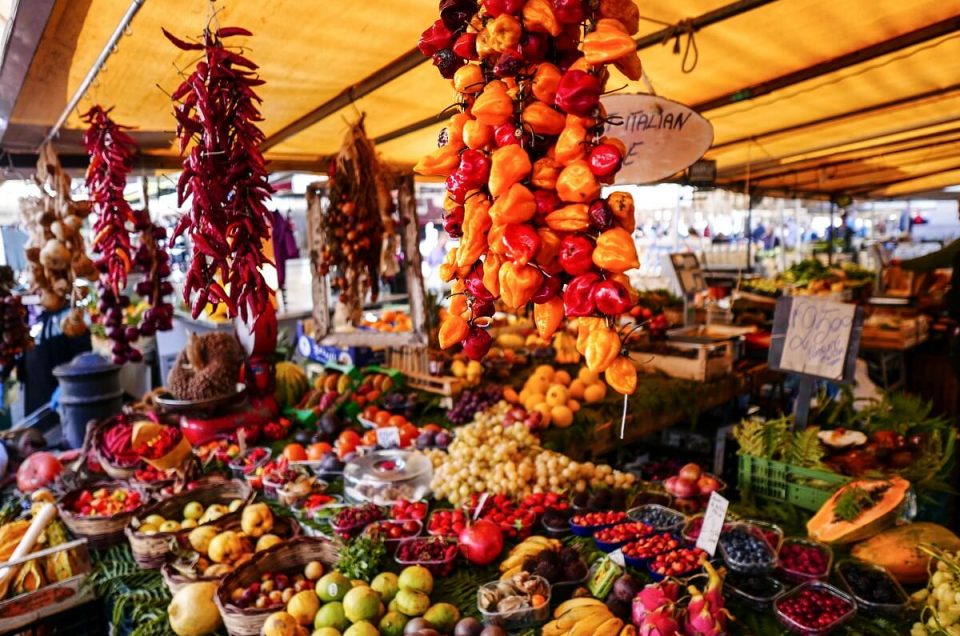 One of the most authentic experiences you can have in Rome is a tour of its most famous Food Markets. Walking around all the colorful stands and smelling the taste of local fresh products is something you can't miss if you want to get a beautiful memory of your stay in the Italian capital. 
Food Markets, or Mercati Rionali as locals use to name them, are the heart of Italian culinary traditions. It is where everything starts. And it is also a great place to make contact with the local culture. The owners of the stand, always very welcoming and  will guide through the qualities of their products and they will
The best news is that it doesn't really matter where you are staying. In Rome you can find several Local Markets, in many neighborhoods of the city. So, let's see which ones are the most famous and the most authentic. 
Campo de' Fiori Market
Probably the most visited Market in Rome, Campo de'Fiori is one of the attractions you can find in every tourist guide of the eternal city. Located in one of the most central neighborhoods of the city, this market is really easy to reach from most of the city monuments. 
Here you will find stands with local food, meat, fish, cheeses, cured meats and, why not, also flowers. In the corners of the main square you can also enjoy a typical Roman meal in one of the cozy bar and restaurants surrounding the area. 
Address: Piazza Campo de 'Fiori
Testaccio local market
An unmissable gastronomic center, an ideal meeting point for all gourmets, in one of the most beautiful, popular and authentic neighborhoods of Rome. Traditional stalls alternate with the most innovative proposals, with fresh food products, fruit, vegetables, meat, fish. 
There are many stands that prepare delicacies for street food and vegan food lovers. Also, housewares, accessories, footwear and clothing. 
And if you are lucky enough you will also be able to attend showcookings, tastings, educational workshops, archaeological visits to the underground horreum, DJ sets and concerts.  
Entrances from: Via Beniamino Franklin, Via Alessandro Volta, Via Aldo Manuzio, Via Lorenzo Ghiberti
Trastevere Neighborhood Market
Located in one of the most famous neighborhoods of the city, the Trastevere market dates back to the beginning of the twentieth century and it is one of the most traditional and authentic realities of the city. 
The stalls mainly exhibit agri-food products, selected throughout the national territory, but with an undisputed focus on local production which includes, according to season, chicory, broccoli, mixed salad, artichokes, broad beans. 
Not to be missed are offal and meat, fish from the coast, traditional cheeses and food refinements.
Address: Piazza San Cosimato
New Esquiline Local Market
Chinese noodles and soy sauces, Romanian cold cuts and meats, vegetables with unpronounceable names, such as Tapashi and Cassua, spices from all corners of the world and rice, of all shapes, sizes and fragrances, are just some of the products that can be found at the New Esquiline Local Market. 
The most multi-ethnic market in the city: Italian, Chinese, Indian, Halal, Romanian, Bengali, Senegalese products, just to name a few. The indoor market is divided into two sections: a section dedicated to food and another dedicated to clothing.
Address: Via Principe Amedeo 184
Triumphal Local Market
A three-minute walk from the Vatican Museums, it is considered the first Roman neighborhood market, and is one of the largest with its 273 stalls. 
There you can find everything: fresh and dried fruit, cereals, fresh fish and cod, cold cuts, cheeses, pork, honey, jams, organic and exotic products, haberdashery, clothes, bags, shoes, games for children, Christmas decorations. This market deserves a visit. 
Address: Via Andrea Doria 3 / Via la Goletta
Prati Neighborhood Market
Built on the commercial artery of via Cola di Rienzo, the covered market of Piazza dell'Unità was built in 1928 in a neoclassical style. Fresh products, meats, fish, cured meats, cheeses, ready-made preparations. Everything you might desire from a Local market, in one of the most famous streets of Rome. 
Address: Piazza dell'Unità 53 / Via Cola di Rienzo
Farmers' Market Garbatella
Specialties from Rome and surroundings, directly from the producer into your hands. A direct sales market, where local farms sell their products every Saturday and Sunday of the month. A really appreciated market with a great variety of fresh and quality products from the countryside, with tastings of the food on sale. 
Vegetables, fruit, wines and vinegars, olive oil, cheeses and dairy products, fresh meats and cured meats, processed products, eggs, legumes, honey and whatever kind of food you might think of. 
Address: Via Passino 22
Nomentano Local Market
A short distance from the MACRO museum and the famous neighborhood Coppedé, inside a beautiful Umbertine-style building from the 1920s with pediments decorated with the symbols of the city, you will find the Nomentano Local Market. Maybe a little smaller if compared to the others of this list, this Market still has top quality white and red meats, fruit, vegetables, legumes, eggs, fresh fish, gastronomy, flowers and street food.
Address: Piazza Alessandria
Central Market
Inspired by the philosophy of the local markets, it offers fresh and local products, with a large gallery overlooked by shops, gastronomy, small restaurants and bars. 
It is possible to go shopping through all the stands and, at the same time, eat the hot and fresh products meticulously prepared directly on the spot.
Address: Via Giolitti 36, Ala Mazzoniana – Termini Station
Our Tours through the Local Markets
Now that you know which ones are the most important Food Markets in Rome, it is time for you to pick amongst the tours we created to guide you through this wonderful experience. You will be able to choose between different options. Here the full list:
So, if you want to get the most from your visit to a Local Market do not hesitate to contact us. We have new tours starting every day and we can't wait to guide you through our local products.