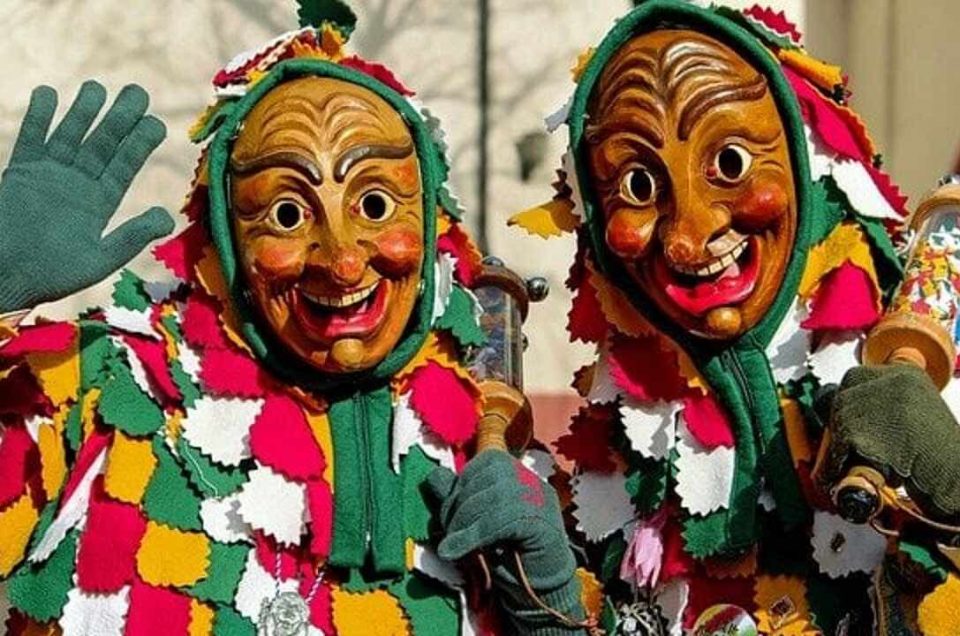 Carnival in Rome takes place between Thursday February 24th and Tuesday March 1st, which is affectionately known as martedì grasso, or 'Fat Tuesday'. The term Carnival probably derives from the Latin carnem levare, which might sound like a Harry Potter spell, but actually means 'remove meat'. It has its Christian roots in the fasting period between the Epiphany and Lent, but borrows elements from the pagan Saturnalia. 
History of Rome's Carnival
Between the 12th century and the mid 15th century, Carnival celebrations took place at the foot of Monte Testaccio, in Rome's historic centre. The celebrations were known as the ludus carnevalarii (again, not a Harry Potter spell but a Latin term meaning 'Carnival Games') and the scenes resembled something from the first few episodes of Game of Thrones.
Roman and provincial nobles would gather beneath the hill to joust, duel, rave and revel. They would also witness the strange and savage spectacle of a wagon of pigs being pushed down the hill only to crash and perish in the mangle of wreckage. The festival culminated in the consumption of all the dead horse and pig meat resulting from the day's festivities. 
As the number of attendees and participants grew year by year, the celebrations spread out from the foot of Monte Testaccio to the historic centre, around Saint Peter's, Piazza Navona and Piazza Farnese near Campo de' Fiori. Then, in 1466, Pope Paul II moved Rome's Carnival celebrations to the vicinity of his residence, around Palazzo del Popolo and Via del Corso.
What happens in a Roman Carnival?
The main event of Carnival in Rome was the races. They featured colorful categories of people and livestock, including children, the elderly, donkeys, and buffalos. In 1501, Pope Alexander VI Borgia even organised a race exclusively for prostitutes. 
Horse racing was banned from the city in 1874 after an onlooker was tragically—if not all too predictably—run over and killed on Via del Corso. This marked the end of the Carnival in Rome which, like its Venetian incarnation, would have to wait until recent years for its revival.  
In normal non-Pandemic times, Carnival in Rome would be organized by the Carnevale Romano association. However, due to restrictions in the city nothing has been planned. 
The Carnival in Venice
Venice is the Italian city most associated with Carnival. The Venetian masks worn by its participants and accompanying pomp and pageantry are recognizable around the world. Legend has it that the festival originated in 1162 following the Venetian Republic's victory over the Patriarch of Aquileia. 
It should come as little surprise then that Venetians stopped celebrating Carnival following the fall of their Republic in 1797 (political and economic desolation does tend to kill that party feeling, after all). 
As in the case of Rome, the tradition of Carnival underwent a revival in the 20th century to become the frenzied mask-wearing parade you associate with Carnival today. 
What do Italians eat during Carnival?
The day-to-day diet remains largely unchanged around Carnival. But you can expect to find a selection of seasonal sweet and savory treats from every region. Here's a shortlist of Carnival food to try.
Sweet Carnival snacks
Chiacchiere

. Because only sociopaths don't like sugary strips of fried dough.

Migliaccio

. This is a bit like a New York cheesecake, only it's with lemon, and it's not from New York. Semolina flour and ricotta cheese combine to make a soft crumb, fluffy treat to stimulate the senses and significantly expand the waistline. 

Cannoli

. There

cannoli

be one thing say about this popular Carnival classic – that Italians eat it year-round it's so good. 

Tortelli Dolci

. Literally meaning sweet tortelli pasta, that's literally what this is. Baked pouches of fun-filled with ricotta and chocolate chips. 

Fritole Veneziane

. What's not to love about sugar-coated doughnuts filled with raisins, pines, and pastry cream? Especially when they're flavoured with honey and lemon zest. 
Savory Carnival snacks
Ricotta Lasagne

. Originating in Naples, this twist on the classic

lasagne alla bolognese

is a simple yet sumptuous meaty first course.

Baked Macaroni

. This is much like the much-loved

 Italian-American

classic. It uses a mix of

parmigiano reggiano

and Fontina or Emmental (Swiss) cheese, short dried pasta, and that all-important pinch of nutmeg.

Celebrate Carnival in Rome with InRome Cooking
Making delicious Carnival recipes under the guidance of a professional chef is not only a great way to have fun, but also to experience an authentic taste of Rome's culture and people. And that's exactly what InRome Cooking offers through one of our renowned cooking classes.
If you want to nurture a deep appreciation of authentic Roman cuisine, our cooking classes offer the perfect solution. We offer a range of shared and private experiences – from classes focusing on beloved dishes like pizza and gelato or pasta and tiramisù to customized classes where you can focus on any food (or flavors) of your choice.
To check out our complete catalog of tours and experiences, visit our website or contact us directly. We can't wait to hear from you so we can organize your pasta-making class and start cooking together!